The Under-15 boys football team has returned from the World Schools Football Cup in Barcelona this week. They can come back with their heads held high. The World Schools Football Cup had some huge teams taking part representing football schools from all over the world from Dubai to Korea to the UK.
This was the first time since 2019 that this tournament was taking place. Our students played against other international schools from around the world as well as world-class football academies and while the results may not have started off that well for us they improved a lot as the tournament continued.
Our aim as a team was to score one goal and to always be competitive. We achieved both of these things. We got two points in our group games and this led to a playoff final vs Obermayr International School. Even though we had the bare minimum 11 players due to injury, our boys battled hard to get a result. Thankfully we succeeded with a penalty shootout win.
We have begun to build something wonderful with this team and we can now look to having a stronger team next year when, hopefully, our U-15 team can come back with silverware.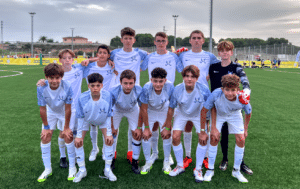 Ray Foley
Lead Teacher of PE