We would like to invite all Primary students to participate in our exciting Design Contest, where the imagination knows no bounds and the talent can make a lasting mark on our school.
Our new house banners are eagerly awaiting a unique design that encapsulates the spirit and essence of each house: Fire, Air, Water, and Earth. Whether you're an aspiring artist, a seasoned designer, or someone who simply loves to doodle, this contest offers a platform for everyone to express their artistic flair.
Design Criteria
To ensure that your design is in harmony with the identity of your house and can be proudly displayed at various events, there are a few guidelines to follow:
Keep it Simple: Simplicity is key. Your design should be easily recognizable and convey the essence of your house at a glance.
Include House Name and Symbol: Each design should prominently feature the name of your house and its symbol. Let your creative juices flow to represent these elements uniquely.
Color Palette: Use only shades of your house color, black, and white. This is where you can infuse your design with character and identity.
Paper Size: Your canvas is an A4 sheet in landscape orientation. This canvas allows you to experiment and create a visual masterpiece within defined boundaries.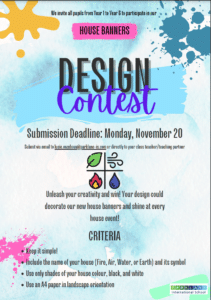 Submission Deadline: Monday, November 20th. We look forward to receiving your creations !
Ms Lucie Vožehová
Primary