Poetry day is awaiting us this week, as we will host Mr. Ash Dickinson at our school on the 2nd of November.
The day will start with a series of performances given by KS3 students at Valdštejnská in the morning. The best poets (chosen by Ash Dickinson) will then be awarded a pizza during lunchtime.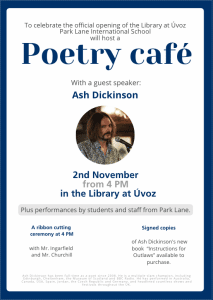 In the afternoon at Úvoz, Ash Dickinson will be introducing his new book "Instructions for Outlaws" during a Poetry café event, which will follow the Grand Opening of our new Library at Úvoz.